This little card is off to the US to help cheer a sick little boy.

The image is from Simply Betty, his name is Kam, and all of the money spent on him is going to help the family of the little boy – head on over to the Simply Betty blog to see how you can help.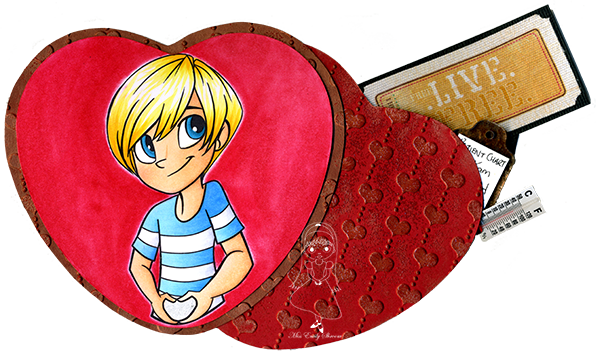 Skin E000, E00, E02, E11, (cheeks E95)
Shirt B00, B02, B05, C-1, C-3, 100
Heart from hands highlighted w

ith Clear Spica pen
The card itself is a round side step card, I followed a tutorial on Splitcoast Stampers

to make it, although my heart shapes are a bit big so it's a bit hard to tell it's a side

step

.

I cut the heart shapes using the CM Custom Cutting System templates and used chalk on the background to Kam's image.

I dry embossed the red hearts with a Darice folder I received in a recent swap and inked and clear embossed them.
The fabric tag is from Webster's Pages, which I mounted on some black cardstock, and says 'Live Free', I made the doctor's chart from a Tim Holtz fragment while the thermometer is from Stanislaus.

I know it's not a thermometer like you use on a person but it was as close as I had.

As this is a get well card for a sick little boy I thought these elements all go together well and express my sentiment that I hope he gets to live free of doctors and hospitals.
Thanks for stopping by and taking a look at my card, please leave a comment, I'd love to hear your thoughts :-)