I found out on Friday it was a colleague's birthday, I also had a really good talk with him on Friday night about staying resilient in the face of obstacles (we're trying to change culture at work!).

In talking about what each of us did to relax I told him about my crafting and we ended up on the topic of Steampunk, which he'd never heard of.

Guess I can't blame him there, he is male, just turned 47 and his oldest is still only 9 so a bit young to be into that sort of the thing.

But it did mean that I had my theme for his card and this gorgeous image with the sentiment of 'Believe' was just perfect given our discussion about believing in the good that we are trying to do to get us through the hard work of change.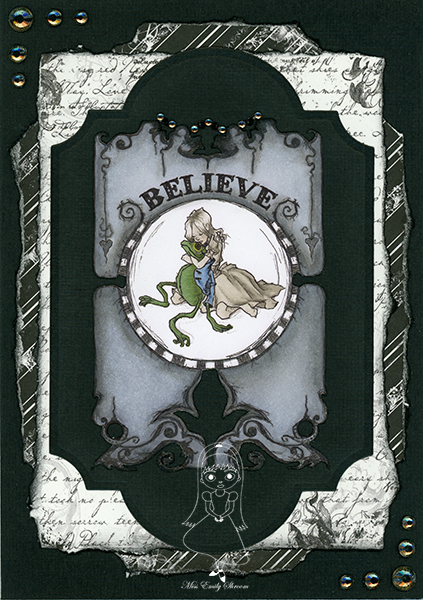 Copic colours used:
Frog B93, B95, B97, G94, G99, YG95
The image is from Simply Betty's Steampunk Classic Collection 6 and is called Believe.

To further challenge myself I tried a fairly monochromatic scheme, all warm greys for the girl and cool greys for the frame.

Then just the pop of colour on the frog but still in muted tones to keep with the overall look.

I picked out elements to highlight with Spica glitter pens, mostly the outlines.

There were dots at the top that I couldn't cut around so I added the tiny gems instead.
There's a new challenge up at the Simply Steampunk Challenges
'

site too, it's to "distress".

This is their second challenge, I didn't have time to enter the first so thought I would go with some distressing and enter this into the challenge.
At first I just cut the background papers and inked the edges but I figured that wasn't distressed enough so I carefully lifted them and used them for the inside.

The papers are from Bo Bunny's Enchanted 6x6 stack, they were elegant but not too decorative as I was trying to keep this simple being for a man.

I tore them for a more distressed look and then inked the edges with Black Soot Distress ink.

The black frame is a Nestie cut from the same black cardstock as the card itself.

A few smokey gems in the corners I figured was a nice touch of bling without making it girlie.
I used the same papers inside, the first set rescued from the front, and cut another Nestie frame.

I printed the sentiment on the computer and then traced it onto the card and voila, one finished card.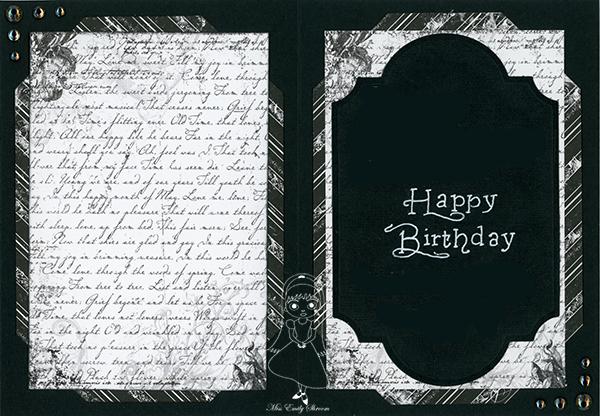 Won't you go check out the challenge at Simply Steampunk Challenges and play along?
Thanks for stopping by and taking a look at my card, please leave a comment, I'd love to hear your thoughts
:-)