I've got two projects to share today featuring one of the Lady Killers from Simply B Stamps, her name is Arsenic Annie. Here she is on a tag featuring some "old lace", you'd think twice before accepting a drink from this dame with that nasty look in her eye!
I followed a sketch from Friday Sketch Challenge to make up my tag, it's hard to see the writing on the sentiment but it says "If our love is poison how come you're my antidote?". The background paper from Echo Park features apothecary labels and the top one advises it is "best used for finding true love" which suited perfectly for my tag. The cute challis charm is from my local craft shop, The Crafter's Haven, when I found it on the weekend I knew it was perfect for my tag. I added some Swarovski crystals to the rim and one on the inside to make the challis look full. The poison in the bottle is Perfect Pearls in Diamond Glaze, which doesn't seem to want to go hard but that just means it keeps sloshing around like real liquid so is actually a good thing.
Now I actually made the next one first, where I've put Annie on a small glass jar using a wet slide decal. I was going to use the same image on the tag until I realised I had coloured her to match the rest of the Lady Killers for another project I have planned so I had to print out and colour up the other version for the tag!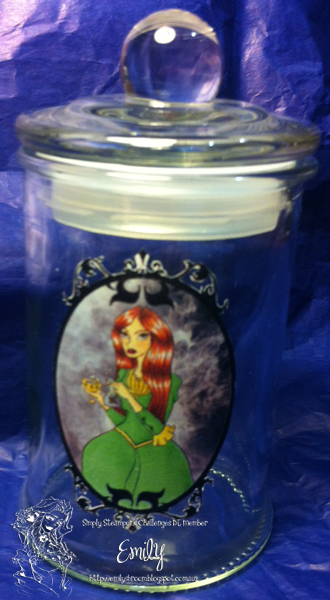 This time I framed Annie in a suitably gothic looking frame from Tigers Stock on Deviant Art, check out her great items she generously shares. I also wanted a background and I am no good with Photoshop but that's OK because I found this great smokey background from Wu-Killah D also on Deviant Art. I really wanted an apothecary jar with a funky shape but as this is going to my boss filled with nuts I needed a jar with an airtight seal but I think the shape still works.
Copics
Skin (Both) E50, E51, E53 (cheeks E11)
Lips (Jar) R46, R59, R89 (Tag) R24, R59, R89
Eyes (Jar) G21, G24, G28, 0 (Tag) G03, G05, G09, 0
Hair (Jar) E07, E08, YR07, YR68 (Tag) E20, E23, E25, E27, E29
Dress (Jar) G02, G03, G05, G09, G17, Y23, Y26, Y28
(Tag) YR12, YR14, YR15, YR16, YR20, YR21, YR23, YR68
Bottle (Jar) BG10, BG11, BG15, 0, Spica Clear (Tag) BV20, BV23, 0, Spica Mint
Challis (Both) Y23, Y26, Y28, Spica Melon (Jar) Spica Olive (Tag) Spica Mint
Poison (Jar) BV20, BV23, BV25 (Tag) BV20, BV23, BV25, BV29
Chalks & Inks etc
Creative Memories Dual Tip Pen Orange
Diamond Glaze
Pebbles Basic & Pearlescent Chalks
Pebbles Metallic Cream Chalks
Perfect Pearls – Pewter
Spica Orange
Embellishments
Metal Challis Charm
Swarovski Crystals
Tim Holtz
Idea-ology Corked Vials
Dies
Spellbinders Nestabilities Classic Circles
Spellbinders Resplendent Rectangles
Papers
Wet slide decals (Jar)
Echo Park The Apothecary Emporium Wicked Potions (Tag)
Graphic 45 Olde Curiosity Shop Apothecary (
Tag)
Ranger Black Tag
Ribbons & Trims etc
Doodlebug Haunted Manor Assortment Doodle Twine
Lace
– coloured with Distress Ink Tea Dye
Michaels Melodies & Lace Trim – Lace (from swap stash)
Stamps
Simply B Stamps Arsenic Annie
Background – Texture 10 by Wu-Killah D
Ornate Oval Frame Cutout – Tigers Stock
Edit: I made the top three!