This very blue card is heading off to a colleague for his birthday, hence all the manly blues and no embellies.

It features 1920's Kody from Some Odd Girl.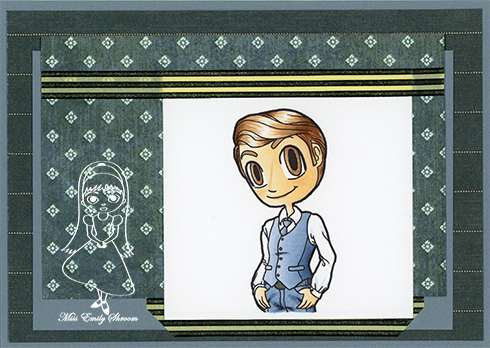 I've cropped Kody to fit the sketch, which is the July sketch challenge one from the Some Odd Girl blog.

I keep going to Kody when I need a stylish male card, he is just perfectly dapper.

The sketch was a good fit too with lots of clean lines to it and I finally got to use some of my Washi tape too!
This card features four layers (I love adding layers of paper, makes cards nice and heavy and substantial!) and a 1920's gentleman so I'm entering it in the Crafts-Too Challenge You era with layers twist challenge.

And as it is most definitely a birthday card (I'm not much for sentiments on the front of my cards!) I'm also entering it at Word Play Saturday where the theme is birthdays.
Hair E21, E23, E25, E27, E29
Belt Buckle & Buttons Spica Silver
Vest & Pants B91, B93, B95, B97, B99
Spellbinders Nestabilities 5x7 Matting Basics
Spellbinders Nestabilities Classic Squares
Graphic 45 A Proper Gentleman – Dressed to the Nines
Graphic 45 A Proper Gentleman – The Sophisticate
Gorjuss Patterned Craft Tape