So maybe in this outfit Eliza doesn't look like an impudent hussy but it was in this outfit she uttered the quote on the card I've made.

It features My Fair Lady from Sassy Studio Designs.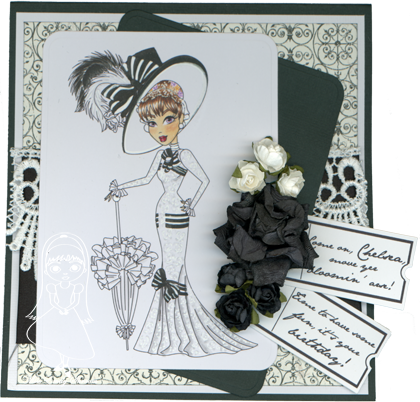 I'm really proud of the colouring on this image, black and white isn't easy and this was also my first attempt at doing lace with Copics.

I followed a tutorial by Jennifer Hancock on the Copic website.

I did the lace as I looked up a photo of Audrey in My Fair Lady and her dress was covered in lace, she also had flowers on her lace cap so I drew those in too before adding some white 'lace' with a pen.
To make up my card I followed a sketch at Friday Sketch Challenge although I did twist it a bit to suit my image which I'd coloured before thinking about the layout of the card and was a smidge too tall for the sketch to work without alteration.

I picked the image out to play at Through the Purple Haze in their ticket or tags challenge
as I thought tickets suited a day at the races

(I'm just under the wire with this but still in with a chance for the draw in December for completing every weekly challenge!).

I have a stack of trims so I'm really trying to use them more although it's a bit hard to see the ribbon and lace hiding behind all my other stuff but it is there, promise!

So that covers me for the Crafty Ribbons Challenge and my black and white colour scheme works for the 4 Crafty Chicks challenge.
This card is for a friend's birthday and I couldn't help but use the 'bloomin' arse' quote from Eliza Doolittle in My Fair Lady, I did change it up a bit, I substituted my friend's name for 'Dover' in the original.

Think it still counts for the Country View Crafts' Challenge that called for a quote.
Skin E50, E51, E53, (cheeks E11)
Hair E21, E23, E25, E27, E28
Dress & Hat N0, N1, N2, N4, T6, T8, T10, 100, 0
Lace cap V12, V15, YR12, YR14
Spellbinders Nestabilities A2 Curved Matting Basics
American Crafts Cardstock – White
Echo Park Chillingsworth Manor Iron Gate