This month's Simply B Stamps' Fan Page challenge is Good v Evil featuring one of two awesome mermaids drawn by the uber talented Betty, Roxie the Good and Spika the Bad. The challenge was to choose one and then do a "goodie goodie cheery … or a dark and bad as can be" project. I decided to combine them both.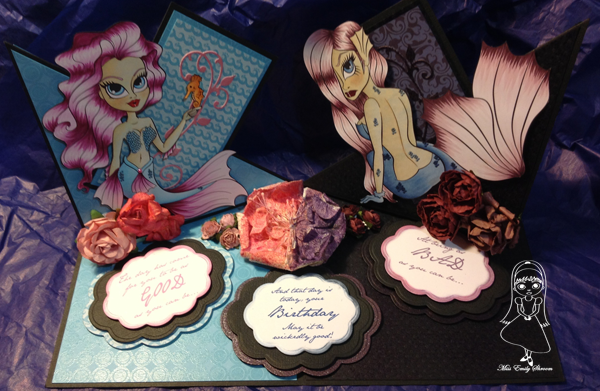 As you can see I mirrored each side of the double twisted easel card I made, one side light and cheery the other dark and moody. I did the same with the colouring, same base colours but different shades and tones to give the right effect.
This card has gone to a friend for her birthday and she loved it, it's kinda big and showy like her!
Skin E50, E51, E53, B000 (cheeks E11)
Hair & Fins RV52, RV63, RV66, RV69 (Spica Blossom on Fins)
Tail B000, B00, B02, B05, Spica Clear
Skin E50, E51, E53, B91 (cheeks E11)
Hair & Fins RV91, RV93, RV95, RV99 (Spica Sky Blue on Fins)
Tail B91, B93, B95, B97, B99, Spica Sky Blue
Marianne Anja's Vintage Swirls
Spellbinders Nestabilities Big Scalloped Ovals
Pebbles Cream Chalks – Metallics
Bazzill Cardstock – Black
Bazzill Dotted Swiss
–

Pepper
Bella BLVD Sand & Surf Surfs Up
Bella BLVD Sophisticates Sprinkles & Lace
Creative Memories Candy Shop