Simply B Stamps are releasing another collection of awesome Steampunk images today, the rest of the Zodiac line.

And for your viewing pleasure I have Cancer to show you.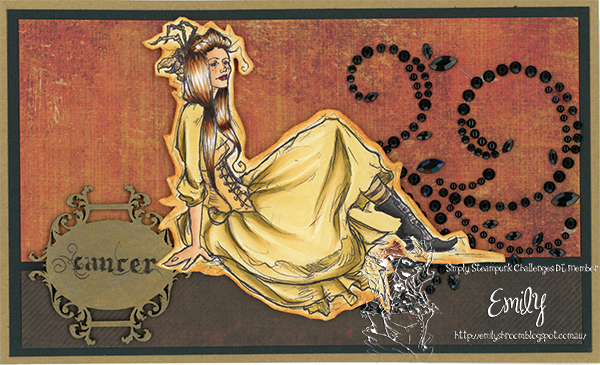 As with all my release day images I have placed her on a Kraft album page to go into my Steampunk box.

Although it's Spring here in Australia, there's so much talk of Autumn going on that I decided to colour her in shades of gold and mount her on some lovely Autumn coloured paper.

As such I'm entering this into the current challenges at Crafting When We Can, Dream Valley, Great Impressions and Rogue Redhead Designs.
To make up my page I followed the current sketch at Retrosketches, which was a nice clean CAS sketch that allowed the beautiful image to take centre stage.
Skin E11, E13, E21, E50, E51, (cheeks R02)
Dress Y21, Y23, Y26, Y28, YR20, YR21, YR23
Pebbles Cream Chalks – Metallic
Chipboard label from stash
We R Memory Keepers Black Widow – Frightful & Screech
Simply B Stamps Steampunk Zodiac Cancer
Rogue Redhead Designs Rebel Challenge 27 – Autumn Colours