There's another SBS Fan Page challenge going on and this month Betty drew this sexy witch, Mercedes, for us to use.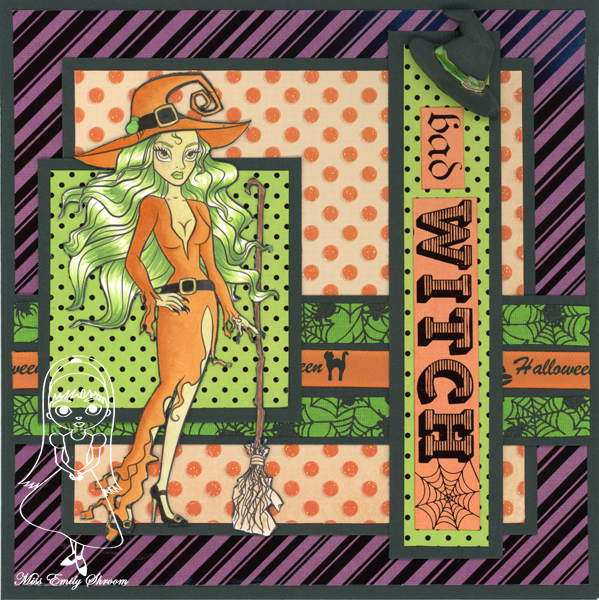 The challenge called for anything Halloween using Halloween colours.

I think I've lost my off the page mojo, or perhaps it's the thought of all the half finished off the page items I have started, so I've stuck with a card for my entry.

It uses a sketch from Chocolate, Coffee and Cards Challenge.
I cut the words from the same paper stack I used for the rest of the card.

There was some extra space at the top of the sentiment strip so I added in a button, I didn't have any orange Smooch to colour the hat to match Mercedes, so I just inked up the band and buckle in Smooch to break up the black.
The current 4 Crafty Chicks challenge calls for squares and there are plenty in this sketch.

I'm also entering it into Jellypark Friends Friday Challenge as this witch is definitely something that flies, she has her broomstick all ready to take off!

Being a witch she also counts as a fantasy figure so I'm also entering the current Sweet Pea Stampers challenge.
Skin E50, E51, E53, (cheeks E11), YG01
Hair YG01, YG03, YG25, YG67
Dress & Hat YR12, YR14, YR15, YR16
Belts & Shoes T6, T8, T10, 100
Broomstick E23, E25, E27, E29, E30, E31, E33
Jesse James Dress It Up – Spooktacular
Ribbon from SBS Ribbon & Fibre Swap stash