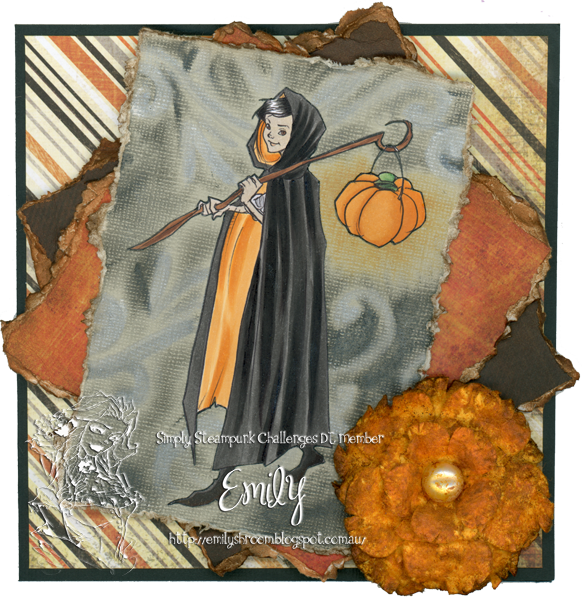 For my layers I decided to try distressing, I have a distressing tool somewhere packed away so I had to stick with a file (the round one I use to sharpen my scissors) and an emery board. The 'dirty' look to the Black Widow paper collection from We R Memory Keepers worked well for the feel I was going for with my card. I've also got layers on my flower, which actually started out life looking quite pretty but which I also distressed. I couldn't get the file to do much on the thick mulberry paper so I snipped the edges of the petals with scissors then attacked them with the file before spritzing with Smooch and adding Distress Ink to the edges.
To make up my card I followed the current sketch at Feeling Sketchy. With the oranges and browns I'm entering it in the current My Sheri Crafts challenge. As Jude looks like he could have wandered out of your nightmare I'm also entering my card at the Time 4 Scrap challenge.
And, in case you're wondering, the title of my post is a quote from the Anglo-Saxon poem, The Wanderer, w
ith his pumpkin light and long cloak Jude reminded me of a wanderer out alone in the dark so the quote seemed quite fitting.
Hair, Cape (outside) & Shoes T6, T8, T10, 100
Cape (inside) & Pumpkin YR12, YR14, YR15, YR16
Pebbles Cream Chalks – Metallics
Smooch Spritz Gingersnap & Log Cabin
Tim Holtz Distress Inks – Black Soot, Tea Dye & Walnut Stain
American Crafts Flower Shoppe – Irene
Core'dinations Cardstock – Grey
We R Memory Keepers Black Widow – Frightful, Happy Halloween & Screech