I'm showing the gorgeous Clever Little Alice image from Simply B Stamps' Alice in Wonderland Steampunk Style collection today.
Now don't let an image like this intimidate you, there are lots of elements to it but it makes for a fantastic finished product when coloured.

The trick is just to take it in sections and take your time.

Mine is printed at only 4" and I was colouring it on the train home so you see it really isn't so scary colouring an image like this.
What is scary is making a centre step card with extra-large embellies and then finding the thing won't actually bend where it's supposed to any more.

So there was a bit of extra cutting and extending happening on this one to get it to work but I definitely think it was worth the effort.

Although perhaps with all this inside it might have been better going with an easel card.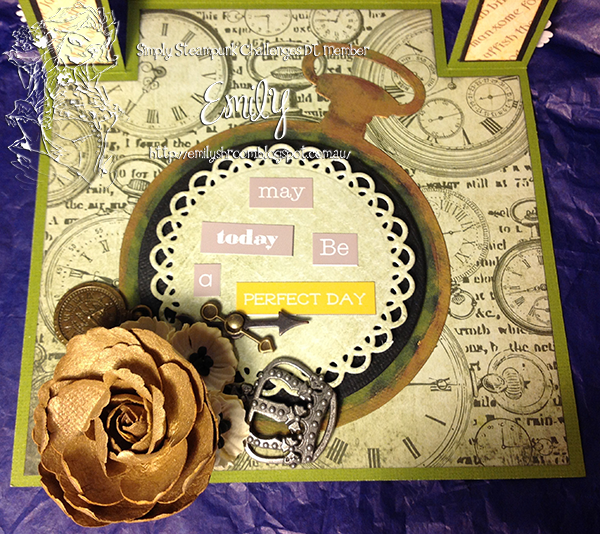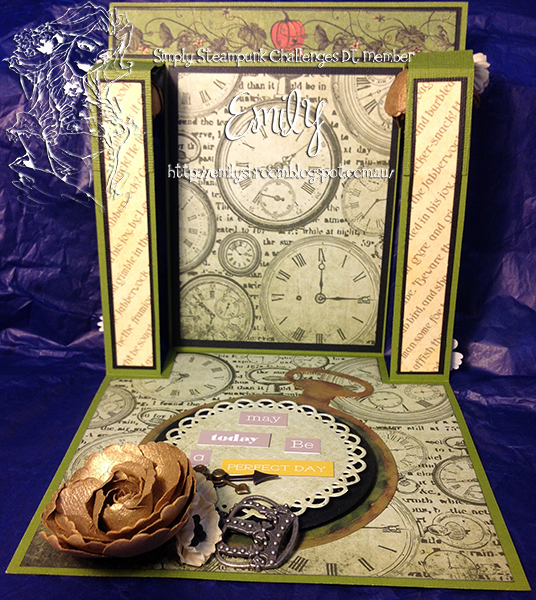 With all my die cuts I am entering this in the current challenge at Addicted to Stamps, I certainly give my Stately Circle dies a workout and I think the Pocket Watch might become a favourite.

I'm also linking it up at the anything goes challenges at Challenges 4 Everybody and Scribble & Scrap.
Alice B91, B93, B95, B97, B99, E50, E51, E53, N0, N1, N2, N4, N6, N8, R02, R46, Y13, Y15, Y17, Y19, 0, 100
Cheshire Cat & Tea Set BV04, BV08, BV13, E53, R02, 0
Rabbits N0, N1, N2, R24, R29, R46, R59
Grandfather Clock, Mirror BG000, BG10, BG11, E29, E35, E37, E49, Y23, Y26, Y28, 0
Picture Frame, Shelf & Table E29, E35, E37, E49, Y23, Y26, Y28
Top Hat & Rug BG93, BG96, G85, G99, Y23, Y26, Y28
Picture B91, B93, BG93, BG96, G85, G99, E70, E71, E74
Sizzix Tim Holtz – Pocket Watch Frame
Spellbinders Nestabilities Circles
Spellbinders Nestabilities Stately Circles
Glitz Sunshine in my Soul – Alphabet & Word Stickers
Jolee's Steampunk Stickers – Bird Corners
Paper Flowers – Roses & Poppies from stash
Tim Holtz Idea-ology Game Spinners & Brad
Krylon Leafing Pen – Copper
Core'dinations Tim Holtz Distress Cardstock – Peeled Paint
Graphic 45 Hallowe'en in Wonderland – Borders
Kaisercraft Cardstock – Black