To the tintinnabulation that so musically wells
From the cogs, cogs, cogs
OK, so that's not quite how Edgar Allan Poe's verse goes but this is a Simply Steampunk Challenges' project and features lots of cogs but no bells.
It's challenge time over
Simply Steampunk Challenges and this month's theme is clocks / timepieces. So of course I needed to make an actual clock, my lounge room walls needed some Steampunking and how better than with this awesome image from Simply B Stamps, Rio Portrait, by artist Abigail Larson.
Head on over to
Simply Steampunk Challenges and check out all the details – you have until 4 July to get your Steampunk on, don't let time get away from you!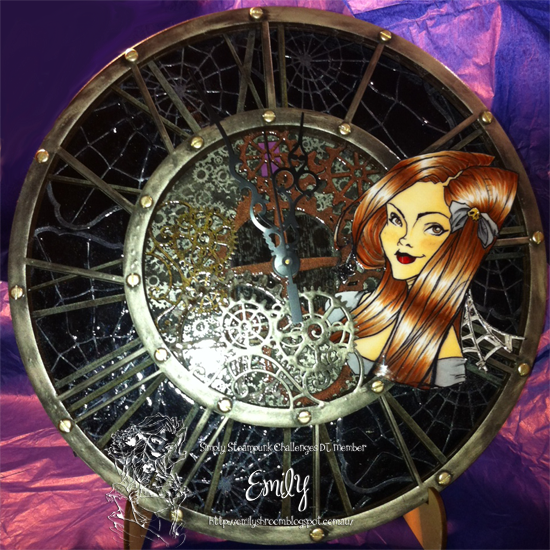 Skin E50, E51, E53 (cheeks E11)
Hair E08, E19, E23, E25, E27
Shirt & Bow N0, N1, N2, N4, N6
Skull Y23, Y26, Y28, Spica Clear
Jonathon Knowles Clock Company clock mechanism and hands
Twiddleybitz Steampunk Clock
Memory Box Spider Web Frame
ColorBox pigment ink – Platinum
Distress Stain – Black Soot
Perfect Pearls – Heirloom Gold
Ranger embossing powder – Clear
Twiddleybitz Rusting Powder
Quote (or in this case, misquote)
Edgar Allan Poe's The Bells