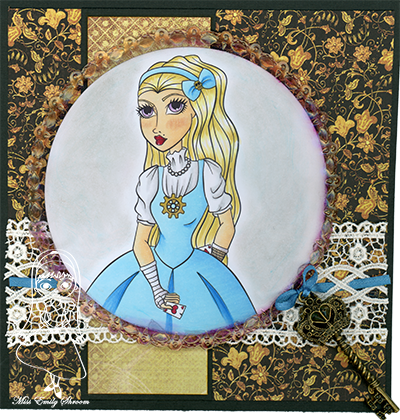 I tried to create a looking-glass effect with a piece of acetate, not sure it really worked.

I ran it through my Grand Calibur machine which embossed rather than cut the shape but that was fine as it meant I could create a bit of a gilded edge to my looking-glass.

Unfortunately I didn't have the right colour Staz-On so I used both red and black and then topped it with some gold ink, I'm thinking I should have done this border out of a solid piece of cardstock and then layered that over my round piece of acetate looking-glass.

Ah, well, you live and learn!

To create the glass effect I tipped some B00 ink from my Various Refill bottle on the back of the acetate and spread it with some paper towel, it's a bit hard to see in the picture but in life it gives the image a slightly bluish tinge.
Although the BG paper has a black base I think the gold tones along with the bright colours I've used on
Alice give this a much lighter feel than my
Wicked Little Alice and this could easily be used for a birthday card, even for a child.

Just goes to show the versatility of the images, even the Steampunk ones, over at Simply B Stamps.
In making up my card I had in mind the looking-glass effect but am not so great with the layouts so I followed a sketch at Sketch Saturday where the current challenge let you pick a sketch from a range of past sketches, I found Sketch #250 suited the look I wanted perfectly.

I also followed the recipe at Our Creative Corner to help with my embellies, I used lace and ribbon, metal and inked my looking-glass.

I'm also entering this into the Squirrel and the Fox's Use Something Metal challenge (my metal key charm covers that) and Crafty Friend's Use a Charm challenge.
Skin E50, E51, E53 (cheeks E11)
Dress & Headband B000, B00, B02, B05
Gloves N0, N1, V91, V93, 0
Cog & Skull E13, Y23, Y26, Y28, Spica Clear
Pearls T1, T3, T5, 0, Spica Clear
Spellbinders Nestabilities Grand Circles
Spellbinders Nestabilities Grand Decorative Circles One
Thanks for stopping by
:-)