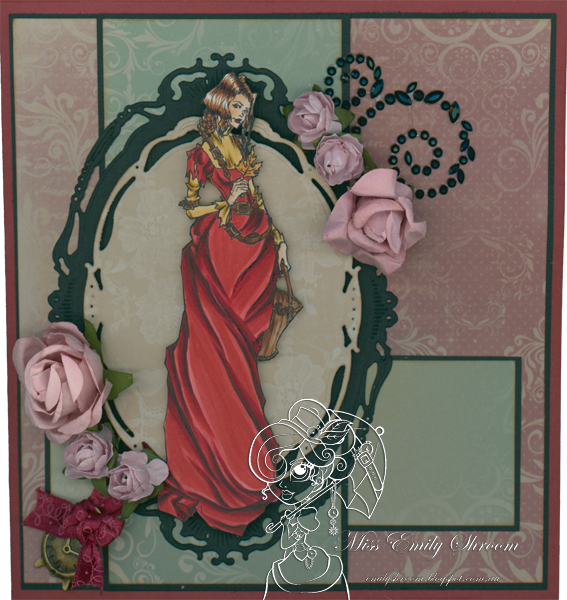 Last month I did some travelling for work so I printed off some of these gorgeous Steampunks and packed some Copics for the long flights I had.

Just as well too as I needed to make a card for a colleague and so I had this image ready to go.
To make up my card I followed the sketch at Sketchy Colors, with a lovely romantic image like Grace the Opulent Oval dies from Spellbinders were the perfect background as was the dreamy designer paper from Kaisercraft.

I also took inspiration from the so romantic theme and image at The Shabby Tea Room in my soft pink roses and clock embellie.
They've got a three favourite embellishments challenge going on at Incy Wincy.

I love metal embellies and paper roses, I suppose I have four embellies if you count the ribbon and the crystals.

I probably use more of the crystals as they are easier but I have a huge supply of ribbon, I love it too, I just often can't part with it or have difficulty incorporating it into my layout.
Skin E50, E51, E53 (cheeks R02)
Hair E29, E31, E35, E37, E49
Outfit E31, E35, E37, R24, R29, R46, R59, R89, Y21, Y23, Y26, Y28
Spellbinders Nestabilities – Opulent Ovals
Kaisercraft Mini Paper Blooms – Dusty Pink
Kaisercraft Paper Blooms – Dusty Pink
Metal Clock Charm from stash
Prima Say it in Crystals – Black Swirl
Tim Holtz Distress Ink – Barn Door & Tea Stain
Close to My Heart Cardstock – Red
Kaisercraft Cardstock – Black
Kaisercraft Enchanted Garden – Entrance & Magic
TPC Studio Ribbon – Moroccan Market