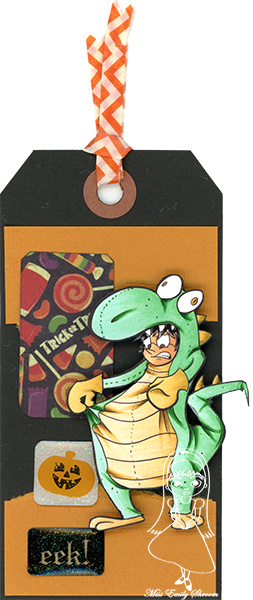 I liked my little tag from yesterday so much I thought I'd do another one, I think they will look really cute on layouts in the mini albums I am making.

Again I've used a Ranger tag as my base, this time I've followed the sketch at STAMPlorations new challenge blog.
I was going to add another DP but it was all a bit too busy so instead I just left the centre black.

I thought the lolly paper from We R Memory Keepers was a good fit to add to the feel that Christian is dressed up for Halloween and not some other event, same with the epoxy stickers I had in my stash from last year's Halloween tags.
The tie is actually a strip of washi tape folded in half. Washi tape is something else I have a large collection of that I never seem to use much.
The current challenge at Simply Create Too is for Halloween or orange, I've got both covered in this one so am linking up there.

As this also isn't a card I'm entering it in the current Creative Corner challenge.
Skin E11, E21, E50, E51, (cheeks R02)
Outfit G00, G02, G03, G05, G07, Y23, Y26, Y28, YR20, YR21, YR23
Making Memories Spellbound Glitter Pebbles Stickers
Stampin' Up Witches' Brew Designer Washi Tape
Bazzill Cardstock – Orange
We R Memory Keepers Jeepers Creepers – Icky