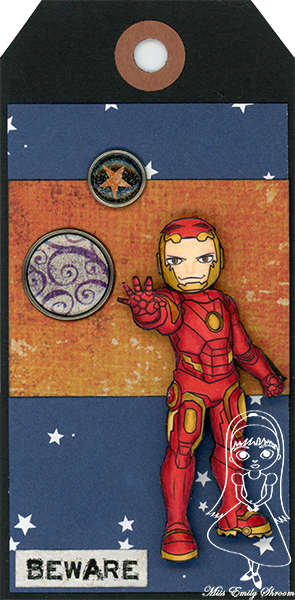 I've used a Ranger #5 tag as my base and the layout is the current sketch at Sketch Saturday.

I did move the sentiment down into the bottom corner in order to make room for Oscar and added in some Halloween metal and epoxy gem thingies from CTMH instead of stars.

I tried to place the big one so it looked a bit like that's what Oscar is holding up with his Iron Man power.
The current challenge at Hiding in My Craft Room is to use your scraps, being so small a tag I was able to raid my scrap pile for the papers.

This is a good thing as I tend to just add to the pile never take from it!

There was a strip of Frightful paper (the orange) just the right width for the tag so I just cut the right length off it.

The blue background paper was also a scrap, I've still got half a sheet of it in the scrap pile so plenty more starry opportunities with that one!
The current challenge theme at My Sheri Crafts is "night time", I always think super heroes come out at night and with my dark blue and starry background I think this counts as a night time scene.

Even the orange paper (when you raid your scrap bin you've got to go with the flow) has speckles on it that are reminiscent of stars so I'm working with it being like a belt of stars like the Milky Way or such like and that Jude is flying.

Does Iron Man fly?

I haven't seen the movie but I figure he has to or he isn't really a super hero!
Skin E50, E51, E53, (cheeks R02)
Outfit R24, R29, R46, R59, R89, Y23, Y26, Y28
CTMH

Haunted Assortment (retired)
Bella BLVD All American – United We Stand
We R Memory Keepers Black Widow – Frightful