With hardly any days left of the year I finally have my last two Christmas cards to show, these ones feature Santa's Helper Rio from Simply B Stamps.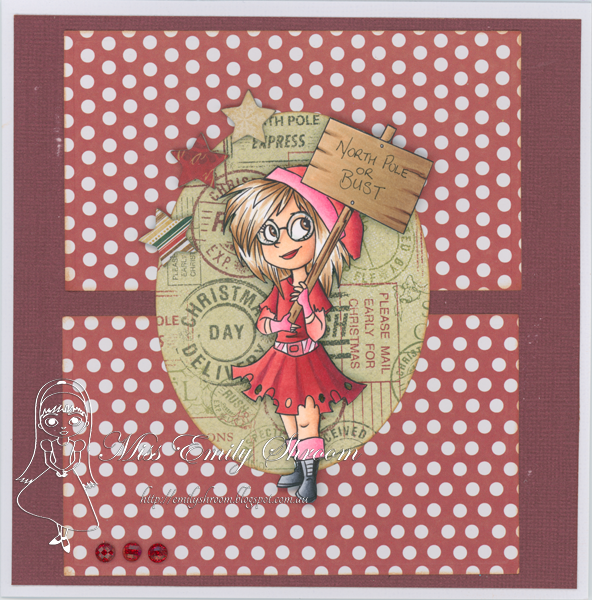 I forgot to add a sentiment before I printed these out so I had to write it in after but the slightly shaky writing suits the slightly tatty look of Rio and the theme of her hitching her way back to Santa's workshop. Notice something else about the green version? Yep, no image. I had all my supplies laid out on my table last night, I swear I had a red and green version of
Rio but when I went to make up my cards today the green
Rio had disappeared. I turned my craft room upside down looking for her, the room is now clean but she is no where to be found.

Either she's run off with Merry Betty and they've having a good time together or else there are gremlins in my craft room trying to send me mad.

Too bad for them I already am! I'm still working on the recolouring of the green
Rio luckily I am hand delivering these two cards.
The cards follow the sketch at A Die for Sketch, which, as the name suggests, also calls for a die cut to be used.

I've cut all three main elements to the sketch using dies.
T
he designer papers are all old and the gems are from my stash too, I rediscovered the red ones in time for my late Christmas card making and the green ones were a complete sheet too that I had to dig through my entire stash to find, I'd almost given up thinking I actually had any green ones.
Coloured last year so I no longer remember
Spellbinders Nestabilities – 5x7 Matting Basics & Classic Ovals
Tim Holtz Distress Ink – Tea Dye
American Crafts Cardstock – White
Kaisercraft Mint Twist – Peppermint & Twine
Kaisercraft Twig & Berry – Frankincense